Pregnancy outcome does not always proceed as planned. Sometimes baby arrives too early………..
If baby is in ICU and unable to suck at the breast yet, you can rent an Ameda hospital grade electric pump to assist you in producing lifesaving breast milk for your precious little bundle.
The Elite Hospital Grade Breast Pump is clinically proven to help mothers with a baby in NICU to reach 500 ml of expressed breast milk by day 5 and 1000ml by day 10. This is ideal breast milk production as it helps to set the mother up for successful breastfeeding in the long term.
The Ameda Elite Breast Pump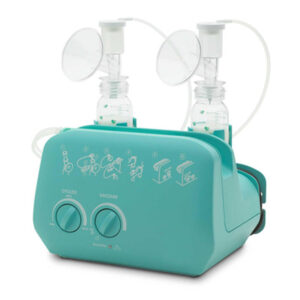 About the pump:
The Elite Breast Pump is a multi-user, hospital-grade electric breast pump that is the first of its kind with a microprocessor-driven pump.
It is a durable yet lightweight pump, proven by research to be effective at establishing milk supply.
Custom Control: Ameda breast pumps feature fully independent Custom Control settings for speed and suction.
Dual adjustability lets the mother select her best levels for milk flow and comfort, so she can find the perfect, unique setting to suit her needs.
Its "whisper quiet" operation contributes to a comfortable pumping experience.
HygieniKit Milk Collection System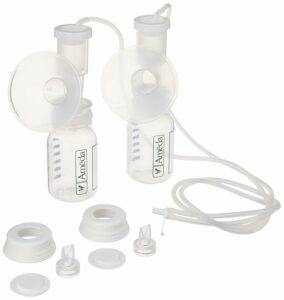 The hygiene pump set kit is BPA free and has the airlock protection that only Ameda offers.
Proven Airlock Protection™ means that while a mother pumps, Ameda's diaphragm prevents the air from the pump motor from coming in contact with the expressed milk. The diaphragm eliminates moisture and milk from entering the tubing thus reducing the risk of contamination. This helps protect the breast milk and the baby from bacteria, mould and viruses. It also means that there is no need to clean the narrow tubing.
The kit also comes pre-assembled which reduces time, stress and human error.
Comes in a single or double pump set
Fits all Ameda electric breast pumps
Easy to clean and re-assemble
Pump into any standard-thread baby bottle or milk storage bag
What are the benefits of breast pump hire?
Can establish and increase milk supply for moms with premature babies, or babies not able to suck directly at the breast for whatever reason.
Decreases the amount of time needed to pump.
Fits your budget if rental is for short period of time.
Note:The Hygiene kit has a NAPPI code which is claimable though medical aids!
(Scheme dependant)
Is it safe?
Yes, Ameda is a closed system pump: your milk is never exposed to the tubing or the mechanical parts of the breast pump.
Result: your milk can't become contaminated with another user's milk and no bacteria, fungi or viruses can grow in the tubing or in the breast pump.
Each client buys her own milk collection set to prevent cross infection.
All rental pumps are sanitized between usages.